R3d has technology and advanced know-how, produces Car-Sunshades to the five continents. Heavily deployed in international markets in 2010 installs a vertical production line of metalized Car-Sunshades , having a production capacity of 3 million Car-Sunshades/year, combining the design with the quality of the raw materials, ensuring the satisfaction of its customers.
CarSunshades.




Side Window Car Sunshade.




Bubble Mailers.




Bubble Bags.
Address:
Parque Industrial da Canhoso lote 15 Rua M
6200-027 Covilhã
Portugal
Phone:
+1 3322081343(National fixed network call)

Social Networks:
Eco friendly Manufacturer Of Bubble Products
R3D is an ECOFRIENDLY manufacturer of bubble products, located in Portugal .
Sustainable development is our primary criteria. Since 2011 we look to replace products made from virgin raw materials with others made from recycled plastics, maintaining the same features, quality and function.
Develop products that do not harm everyone's health, while we concern with our economy, became a permanent challenge to R3D.
Aware of its social and environmental responsibilities, R3D is committed to the principles of circular economy.
We created products made from recycled plastics that are 100% recyclable, implementing a Zero Waste policy in our own factory!
Our car sunshades, air bubble envelopes and packages are currently manufactured with over 80% recycled plastic. Such plastic would normally be incinerated in the end of its short life !
We believe that change is possible, REDUCE, REUSE AND ALWAYS RECYCLE is mandatory for a sustainable future for all!
We can consume better, consuming differently !
"We don't have to engage in grand, heroic actions to participate in change. Small acts, when multiplied by millions of people, can transform the world." -Howard Zinn"
Check our Environmental Policy and Social Responsibility and Code of Conduct here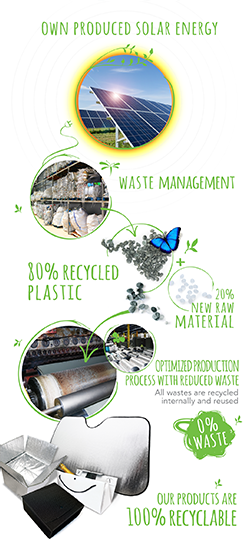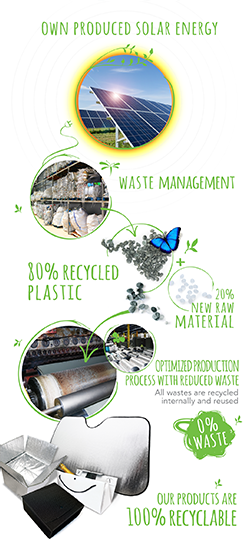 Because the Planet is our biggest concern
OUR SUSTAINABILITY FORMULA
ENERGY FROM THE SUN
PLASTIC WASTE TO RAW MATERIAL
PRODUCTION WITH RECYCLED RAW MATERIAL
FINAL PRODUCT WITH 80% OF
RECYCLED RAW MATERIAL